CBD oil and everything you need to know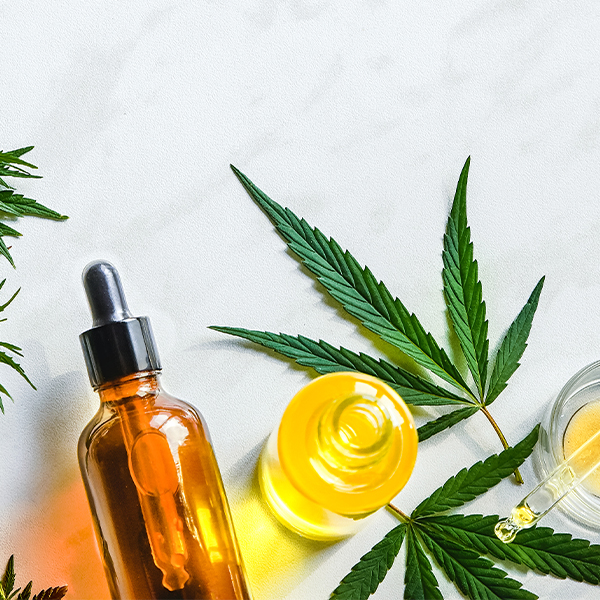 Cannabidiol (CBD) is a non-toxic, non-psychotropic substance found in cannabis plants. It is one of the many cannabinoids that can be extracted from cannabis. Unlike the more well-known THC, the phytocannabinoid CBD does not have a psychoactive component and helps with various health problems. CBD is obtained from industrial cannabis plants that contain only minimal amounts of illegal THC. Read more about CBD.
How is CBD oil made?
CBD oil is obtained by an extraction process from hemp plant fibers. The oil thus obtained is then mixed with a carrier oil and optionally flavored if the final product is to be administered orally. Pure CBD is very strong, so it needs to be mixed with carrier oil, which also helps the body absorb CBD more easily. Fatty vegetable oils are generally used as carrier oils.

What are CBD extraction methods?
Liquid solvent: A cheap, fast and easy extraction method that, while extracting CBD from hemp, also destroys beneficial vegetable waxes and removes chlorophyll, which can also be beneficial.

Heating the plant in olive oil: A safe, efficient and simple extraction method, but not very suitable for commercial use. The final product, which is actually a mixture of CBD oil and olive oil, does not have a very long shelf life and must be stored in the cold.

CO2: A safe method that ensures the highest purity of the final product. 
Types of CBD oils
There are three types of CBD oils: Full Spectrum, Broad Spectrum and Isolate. Full and broad spectrum oils are rich in other cannabinoids (besides THC), flavors and terpenes. Isolate z is at least 99% pure CBD without other cannabinoids, terpenes or flavonoids. 
Full spectrum CBD oil
The cannabis plant contains hundreds of different phytochemicals, including cannabinoids, terpenes, flavonoids and other compounds. Full spectrum CBD oils are formed during the extraction of the whole plant and therefore contain not only CBD but also other plant molecules (including trace amounts of THC). These CBD oils are minimally refined, so most cannabinoids and terpenes remain intact.
CBD isolate
The CBD isolate is a pure extraction of CBD molecules without other cannabinoids and terpenes. The CBD isolate itself is a white powder without taste or odor.
Broad spectrum CBD
Broad spectrum CBD represents a compromise between full spectrum CBD and CBD isolate. Broad spectrum CBD oil has a high proportion of CBD, does not contain any THC (0%), but retains other cannabinoids, terpenes and other potentially beneficial compounds that are not present in the isolate.
Accompanying effect or why reach for the full spectrum
Full spectrum CBD products contain many different cannabinoids and terpenes and thus have greater therapeutic potential. There is talk of a so-called "side effect" - cannabinoids, terpenes and other compounds found in cannabis support each other and together have a greater therapeutic effect than isolated CBD alone. The effect of accompaniment is triggered by the minimum level of THC (the statutory limit is 0.3%) - you will find it only in full spectrum products.
How do different concentrations differ?
CBD oils are available in various concentrations - from 3 to about 30%. Different concentrations make dosing easier. If you start using it, look for an oil with a lower concentration - you can try, for example, full spectrum Euphoria CBD oil 5% . 10% of the concentration proved to be a relief for depression or sleep problems - you can try, for example, full spectrum Euphoria CBD oil 10% . If you are a more experienced user or you have more serious health problems, you can reach for a higher concentration and try, for example, full spectrum cannaline Premium CBD Oil 20% .
 When dosing, always refer to the amount of CBD in one drop.
What do the individual concentrations mean?
5% CBD oil contains 500 mg CBD in 10 ml 

10% CBD oil contains 1000 mg CBD in 10 ml

15% CBD oil contains 1500 mg CBD in 10 ml

20% CBD oil contains 2,000 mg CBD in 10 ml

etc.
Tip: If you are counting the drops and recalculating the concentration against the fur, look at CBD capsules - this is already dosed CBD oil in soluble capsules.
How and with what do CBD oils help?
How to use and dose CBD oils?
When used internally, it is most effective to drip CBD oil directly under the tongue - so the CBD gets into the bloodstream the fastest and can start working. However, you can add it to food or drinks if you feel unpleasant. In case of joint or muscle pain, CBD oil can also be lubricated locally.
It is worth knowing: You will notice a greater effect with regular use of CBD in about 1-2 months. Therefore, regularity in its use is really important, as is the really slow dosage adjustment.
Several factors need to be considered when dosing:
your body weight

your medical condition

CBD concentration in one drop 
Tip: Always talk to your doctor about dosing, especially if you are taking prescription medications.
If you do not have a doctor's recommendation, always start with a smaller dose and increase it gradually. If you do not find the recommended dosage directly for your chosen product, you can start with a dose of 2 to 3 mg CBD three times a day - ie 6-9 mg CBD per day. If you do not feel any relief after a week, you can increase the amount by 5 mg CBD per day. Although CBD cannot be overdosed, it is important to know that a maximum of 2.5 mg CBD is recommended for every 10 kg of body weight.
From what and how to choose?
In our varied offer of CBD oils, you will find quality CBD oils only from proven manufacturers such as Euphoria, Hemp Dad, Green Earth or cannaline. 
 If you do not know how to choose, contact us and we will help you choose the right CBD oil just for you.